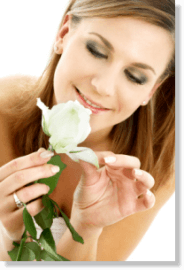 Follow these simple steps to make your beautiful flowers last
On arrival…
Carefully unwrap your flowers as soon as you can.
If you receive a hand tied bouquet leave the tie around the stems to maintain its shape.
Cut 3cm off each stem at a 45 degree angle using a sharp knife. Scissors can be used but they are not as good for the flowers as they blunt the stems which can stop them taking up water.
Strip off all the leaves below the water line as they will decompose and create bacteria which will kill the flowers prematurely.
Arrange your bouquet in a clean vase filled with lukewarm water and flower food.
If you receive a flower arrangement in floral foam make up the flower food as described on the sachet and pour the solution over the floral foam block. Keep the oasis block moist adding fresh water every 2 – 3 days.
Remember to …
Ensure your vases are clean – use bleach or a proprietary cleaner.
Use fresh, lukewarm water as it has less oxygen, so there is less risk of air bubbles in the stem stopping the flowers from taking up water.
Use the sachet of cut flower food as it will stop bacterial growth in the water and will feed and protect your flowers.
Place your flowers in a cool position away from heat, draughts and sunlight.
Ensure your flowers are not put near fruit or vegetables as they release ethylene gas which prematurely ages fresh flowers.
Don't forget to…
Remove pollen from lilies.
Check the vase water level regularly and add fresh water. If possible changing it daily will prolong the life of your flowers.
Re-cut the stems after a week, as this helps water uptake.
Remove any flowers that show signs of wilting or fading.