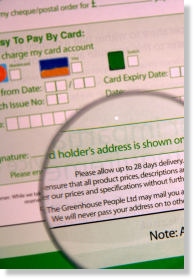 Terms and Conditions
Prices
Prices are shown as a guide and may change when you are redirected to an individual retailers site. In the unlikely event that an incorrect price is shown on our web site. Flowerssimply will not be held liable for any errors.
Orders
The information on this site is provided by individual retailers and has been reproduced by Flowerssimply in good faith. Orders are placed directly with the retailer you select. The contract is between the purchaser and retailer, not Flowerssimply. As an online portal supplying flower and gift deals, we do not take part and are not responsible for orders made with individual retailers. Flowerssimply will not be held liable for any errors, omissions, or customer complaints arising from orders placed with an individual retailer.
Limitation of Liability
In no event will Flowerssimply be liable for any damages including, without limitation, indirect or consequential damages, or any damages whatsoever arising from use or loss of use, data, or profits, whether in action of contract, negligence or other tortuous action, arising out of or in connection with the use of the site.
Disclaimer
Flowerssimply does not warrant that the functions contained in the web site will be uninterrupted or error free, that defects will be corrected, or that this site or the server that makes it available are free of viruses or bugs or represents the full functionality, accuracy, reliability of the materials. This site and the information, names, images, pictures, logos and icons regarding or relating to Flowerssimply and its products and services (or to third party products and services), is provided "as is" and on an "is available " basis without any representation or endorsement made and without warranty of any kind whether express or implied, including but not limited to the implied warranties of satisfactory quality, fitness for a particular purpose, non-infringement, compatibility, security and accuracy.
Privacy Policy
Flowerssimply reserves the right to supplement and amend the Terms and Conditions. It is the responsibility of site user to review the Terms and Conditions when using the web site. They shall be governed by English law and the parties hereby agree to submit themselves to the exclusive jurisdiction of the English Courts. These terms and conditions do not affect your statutory rights.
Copyright
All images in the format portrayed, text, graphics and their selection and arrangement on this site are the copyright of Flowerssimply or their partners.  As a visitor to Flowerssimply's web site you are licensed to copy electronically or to print portions of this site for your own personal, non-commercial use.  Any other use of materials on this site without Flowerssimply's or its partners prior written consent is strictly prohibited.